Weirdly, though the University of California system (including UCSB) utilizes Microsoft's Office 365 Pro Plus service for all its students , it notably does not include Microsoft's OneDrive for Business plan, which Microsoft advertises as coming with that package. I had been using the personal-level OneDrive plan instead, as it gave me a respectable 30GB of free cloud storage.
But things changed when they announced an ill-received move on November 2 that they were reducing free storage down to 5GB (making it the same as iCloud Drive, a service not exactly known for its generosity). To rub salt on the wound, Microsoft claimed in Orwellian doublespeak that they were making the change "in pursuit of productivity and collaboration", but their actions directly contradicted CEO Satya Nadella's cloud-first policy.
Turns out, UCSB just contracted with Box for cloud storage, and I get unlimited storage as long as I'm a student here (which will hopefully be a few years at least!). I remember using Box back in 2006 when they only had a web interface and no native-syncing client. Looks like I'll be switching to them.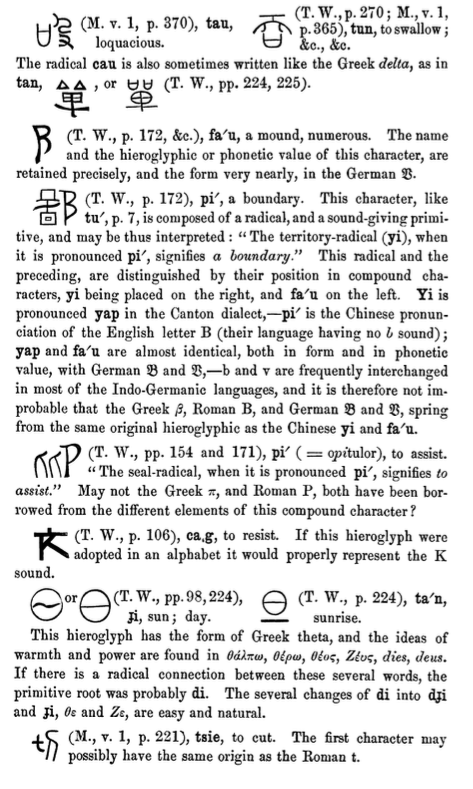 In 1861, the scientist and mathematician Pliny Earle Chase proposed that the Chinese script was quite possibly "indications of alphabetic genesis"; that is, the ancient Greek and Latin alphabets was modeled after Chinese characters. Here's a page from his work above indicating his suggestions (notably that 單 led to delta Δ, 旦 to theta Θ, and 切 to t.
Of course today we know that this hypothesis is utterly ridiculous – however, Chase's work predated the identification of oracle bone script later in the 19th century. If you'd like to read some bad linguistics (and have access to JSTOR), however, you can check his original article "Chinese and Indo-European Roots and Analogues" in Proceedings of the American Philosophical Society here.